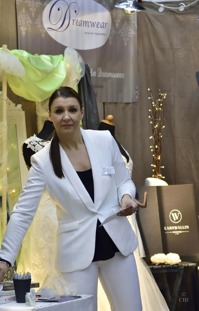 Thank you so much to all of you who visited our stand at the Helsingborg Wedding Fair on 31 January!

We had many lovely discussions, with hopefully future clients.

Thank you also to Dreamwear in Ljungby, who we shared the stand with - it was great fun to have company!

Now we're looking forward to Valentine's Day on Sunday - who will be your Valentine?

Best wishes,

Wedding, private party or a company conference - we help you to succeed!
Imagine a party that mixes your personal style with family traditions.
Imagine an event that makes you speechless.
Guests or conference participants should feel spoilt and the one in charge should never need to worry about all the planning details. We know that it is challenging to coordinate and plan any event, and we want you to enjoy the planning just as much as the big day.
We help you to realise your dreams and ideas, and take care of the planning and all the details to get to the perfect party or the successful event!

Regardless of whether we handle everything, or only a small part of the planning, you can trust us to do our utmost for the end result to be just as you imagined - or better.